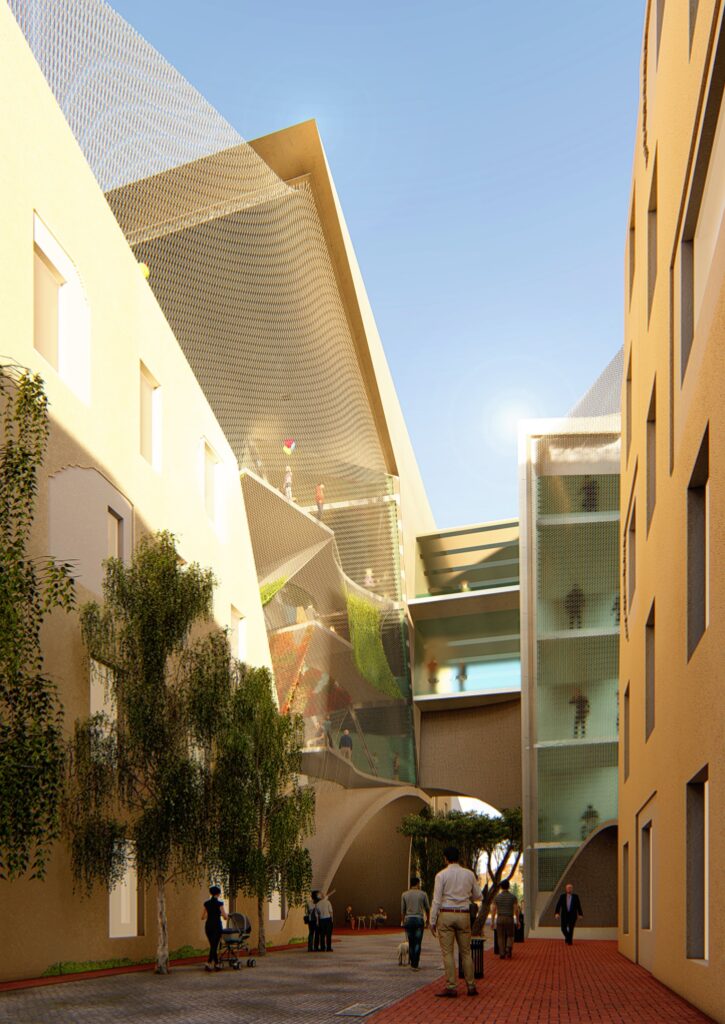 -bio design,- environmental design,-material research,-space architecture,-structural design,- urban design | - online workshop | -English
Description:
Required Skills: Reserach & Design Skills
Maximum number of participating students: 100

Post war effects are widely spread and can be long term or short term.  Effects of war include mass destruction of cities and have long lasting effects on a country's economy, and has important indirect negative consequences on, infrastructure, public health provision, and social order. Meaningful post war redevelopment should consider the balance between architectural infrastructure, public health provision, and social order. Reducing the importance of one of these three axes can lead to catastrophic collapse in the interconnected of social structure, services, and education , The health care system, and has a long-term impact on society. Description of workshop: The goal of this workshop is to introduce new strategy to regenerate the post-war city where those 3 aspects are carefully considered, and can help governments and companies make meaningful decisions for rebuilding post war cities The main focus is on understanding how communities can be involved in rehabilitation in all aspects.  To ensure that all members of society are accounted for the new designs, we should be involved the local communities in the rebuilding process.  This can be achieved by bridging the gaps between all stakeholders (Architects, planners, researchers, builders, and more importantly, the community and the displaced). Local people should be consulted through workshops, conferences and research to record their thoughts and understand their needs.  To enable them to develop better post-crisis rehabilitation strategies while avoiding previous problems and their disadvantages, and impractical architectural styles that are not suited to the lifestyle. As a result from case study and 3D digital information and by the aid of Digital Computational Programs, students are encouraged to design temporary units that are used to fill voids resulting from destruction or mediate interactive courtyards, playgrounds, revive abandoned gardens, etc. The seminar focuses on the unique merge of digitalization, material performance and craft. It explores the possibilities of visual programming and physical computing, finally applying those in a project.
How can local communities participate in the rehabilitation process?
How can a flower grow out of the rubble?
Is the solution to restore the neighborhood as it was before?
Or should we exploit the current situation and rehabilitation in keeping with modern architecture?
How can demolition residues be exploited from reinforced concrete?
Schedule:
timezone: (GMT +3:00) Baghdad, Riyadh, Moscow, St. Petersburg
| Start time | End time | Description |
| --- | --- | --- |
| 2022-06-27 - 12:00 | 2022-06-27 - 15:40 | |
| 2022-06-29 - 13:00 | 2022-06-29 - 15:42 | |
Instructors:
| | | |
| --- | --- | --- |
| | Ziwar Al Nouri | Mohamad Ziwar Al Nouri is an Architect and Researcher with expertise in Parametric Design based in Austria and Syria. He is Founder of "Reparametrize Studio " . Ziwar holds two masters' degrees, one from ELISAVA in Advanced Design and Digital Architecture at 2012, and the second in 2014 graduated with an honors degree undertaken at Studio Zaha Hadid through the University of Applied Arts Vienna . He has worked as main Tutor under the mentorship of the late Dame Zaha Hadid and Patrick Schumacher, as well as Studio Kazuyo Sejima. Al Nouri is currently a PhD candidate at the University of Innsbruck since October 2019 where he is developing his thesis 'Damascus Re-Coding', a research project dedicated to finding a new typology of strategies concept built for post-war Syria . |
Disclaimer:
All workshops will accept 100 applications MAX.