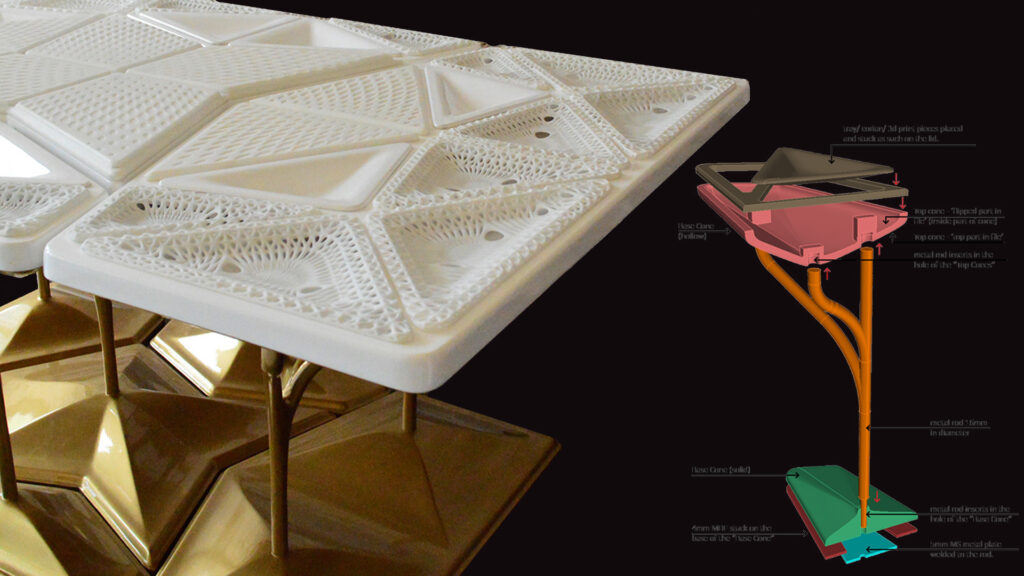 -computational design,-fabrication,-robotic fabrication | - Hybrid workshop | -English
Description:
Required Skills: Rhino 3d + Grasshopper (basics)

Required Software: Rhino 3d + Grasshopper

Required Hardware: Laptop
Maximum number of participating students: 100

The workshop aims to explore digital fabrication and its possibilities within architecture and design. It introduces the tools and plugins required to design and translate them into fabrication strategies. The workshop focuses on the methodologies adopted for machine tooling with the help of laser cutting, CNC routing and robotic fabrication. Applicants will be exposed to the various aspects of design, fabrication, assembly and installation. The workshop will be broken into a series of theory lectures, tutorials and exercises to familiarize the applicants with the different concepts.
Schedule:
timezone: (GMT +5:30) Bombay, Calcutta, Madras, New Delhi
| Start time | End time | Description |
| --- | --- | --- |
| 2022-06-27 - 16:00 | 2022-06-27 - 19:00 | Introduction to Laser & CNC fabrication |
| 2022-06-28 - 16:00 | 2022-06-28 - 19:00 | Applications & Introduction to Robotic fabrication |
| 2022-06-29 - 16:00 | 2022-06-29 - 19:00 | Tutorial, Demonstration & Applications |
Instructors:
| | | |
| --- | --- | --- |
| | Shashank Srivastava | Shashank Shrivastva is a multi-disciplinary designer with more than 10+ years of experience and holds a Master's degree in Advanced Design and Digital Architecture from Elisava Escola de diseño, Barcelona, Spain. His involvement with research and fabrication led to various research projects in Spain and was an integral part of FabLab Barcelona as their fabrication consultant. His passion lies in blending art and technology while pushing the boundaries of fabrication and being future relevant. He is an educator on digital fabrication strategies at BSSA |
| | Sujay Kumarji | Sujay is an architect and a digital fabrication researcher at the Design Hub, Sacred Heart School. Through his work, he attempts to integrate technology within the design discourse to develop new data -informed workflows. His work includes developing digital fabrication strategies, IoT for design and off lately; Creative A.I. processes. He is a speaker / educator for robotics and robotic fabrication strategies. |
Disclaimer:
All workshops will accept 100 applications MAX.