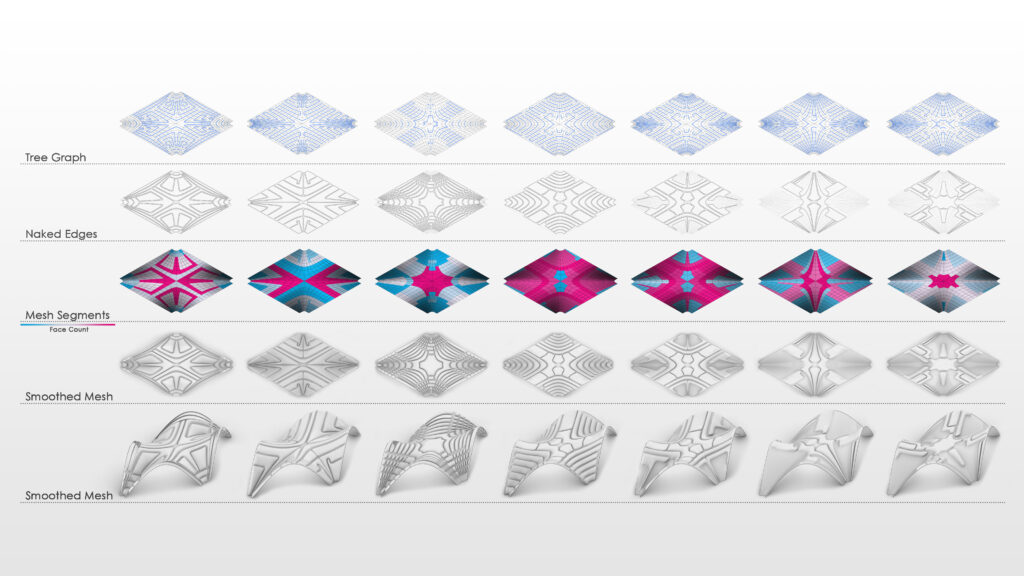 -computational design | - online workshop | -English
Description:
Required Skills: Basics of Grasshopper

Required Software: Autodesk Maya, Rhino, Grasshopper (Plugins: Kangaroo, Ivy, Weaverbird, froGH, Ngon)

Required Hardware: Laptop with the required software & plugins installed
Maximum number of participating students: 100

This workshop will be mainly dealing with specific representation of computational geometry which is discrete (Mesh). The participants will be introduced into a pipe line that allow them to generate discrete topology using Autodesk Maya by going through some polygonal modelling procedures and then applying form-finding & segmentation techniques using Grasshopper which is a parametric plugin within Rhino. During this workshop, we will emphasize on the importance of understanding topology defined as the study of geometric properties that stayed invariant under continuous deformation. This understanding will allow participants to find the required topology in order to apply multiple algorithmic segmentation techniques and find the desired mesh segments. We also will cover a dynamic relaxation using kangaroo (physics engine) which is a computational method to find the equilibrium state introducing the Hooke's law of elasticity & inversion to have an intuitive understanding of tension & compression force applied on geometry.
Schedule:
timezone: (GMT) Western Europe Time, London, Lisbon, Casablanca
| Start time | End time | Description |
| --- | --- | --- |
| 2022-07-01 - 10:00 | 2022-07-02 - 18:00 | Computational Design |
Instructors:
| | | |
| --- | --- | --- |
| | Omar Kaddourah | Omar is an architect, computational designer and blogger who recently joined Zaha Hadid Architects in London where He took part in the design team of the Unicorn Island master plan in China. Omar started his career as a computational designer in Dubai, where he took part in multiple international competitions for residential & mixed-use projects. In 2017, Omar moved to London to pursue his master's studies at the Architectural Association School of Architecture, where he studied in the Design Research Lab (DRL) focusing on cutting-edge software & computational design methods. After his post-graduate studies, during his free time, Omar is continuously researching computational methods related to differential geometry processing, discrete computation expressing this blog ManyBits. |
Disclaimer:
All workshops will accept 100 applications MAX.