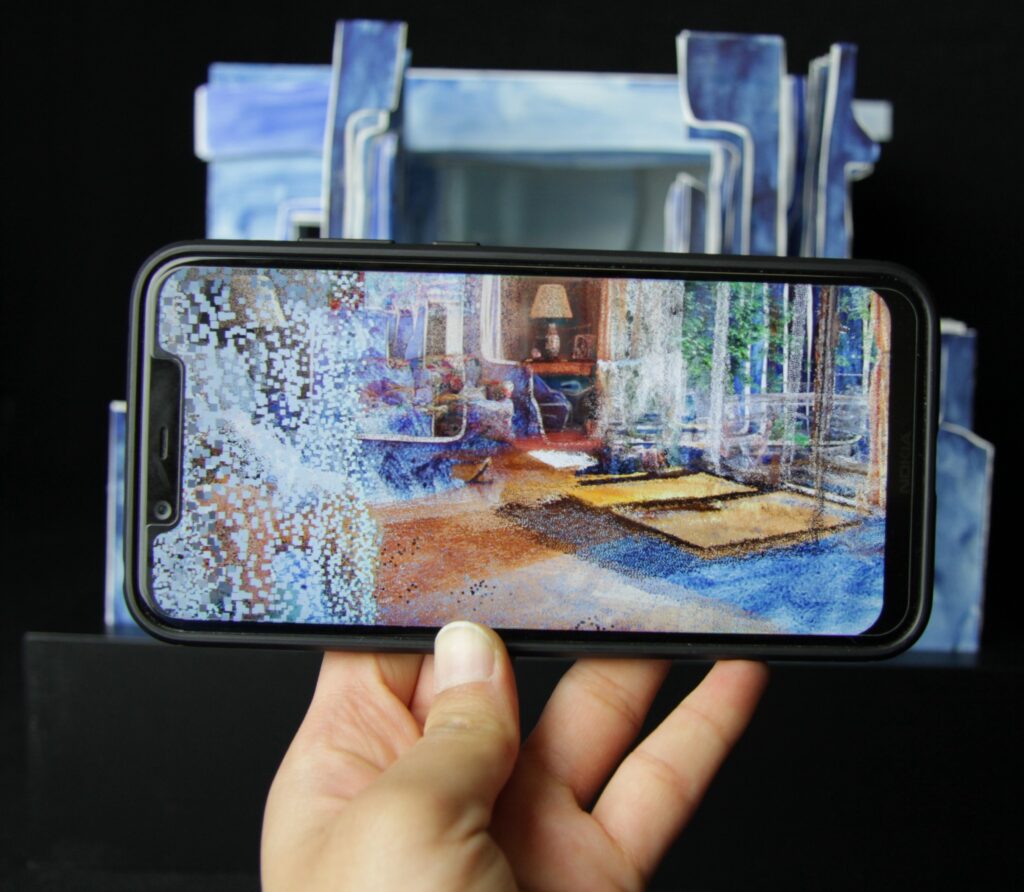 -artificial intelligence,-AR/VR,- design fiction,-interactive design | - online workshop | -English
Description:
Required Skills: Handling 3D software, Rhino, 3D scanning, Photography, Photogrammtery

Required Software: Unity Hub version (2019.4.22f), Rhino3D, Cloud Compare, Google Collab, Meshroom, Twitch + Discord, OBS (Open Broadcast Software) AR Web, Spark AR, DSLR camera, iPhone 12/13 PRO
Maximum number of participating students: 100

The workshop Images, Objects & Fictions aims to operate in a post-orthographic phygital (physical+digital) space. The workshop will focus on engaging with immediate surroundings / environments and activating them with AR (Augmented Reality). It will examine the influence of 'Images' in Architecture and its mediation with 'Reality'. In the course of the workshop the participants will produce digital objects through 3D scanning / GAN's and activate them back in real environments.
The workshop will also introduce the participants to various texts from Roland Barthes, Italo Calvino & Georges Perec and to think of AR that can trigger different aspects of Architecture such as memory, desire, poetry & signs.
Schedule:
timezone: (GMT +5:30) Bombay, Calcutta, Madras, New Delhi
| Start time | End time | Description |
| --- | --- | --- |
| 2022-06-27 - 22:30 | 2022-06-27 - 23:30 | Introduction to Theory & Introduction to Tools |
| 2022-06-28 - 22:30 | 2022-06-28 - 23:30 | Teachnical session - GAN & Photogrammetry |
| 2022-06-29 - 22:30 | 2022-06-29 - 23:30 | Testing the results & making samples |
| 2022-06-30 - 22:30 | 2022-06-30 - 23:30 | AR Introduction |
| 2022-07-01 - 22:30 | 2022-07-01 - 22:30 | Combine AR + Object |
| 2022-07-02 - 12:30 | 2022-07-02 - 18:30 | Final Results Student Presentations & discussion |
Instructors:
| | | |
| --- | --- | --- |
| | Prashant Chavan | Prashant Chavan (b. 1993) is an Architect/Artist, Städelschule (M.A.Arch.) based in Frankfurt & Mumbai. He is interested in exploring Hybrid spatial practices and methods of making Architecture. His interest focuses on questions concerning Aesthetics and Politics of Image, specifically those engaging with Production of the Human Subject. His practice meditates with technologies such as AR, VR and Video games. Currently, Prashant is working as an Architect in Frankfurt, doing group exhibitions. He is also a member at collective Commune6x3. Instagram __prashant__chavan |
| | Veena Sonar | Veena Sonar is an architectural designer based in Frankfurt. She holds a Master of Arts in Architecture focused on Advanced Architectural Design from Städelschule Architecture Class (SAC, Frankfurt, Germany) under the guidance of Prof. Ulrika Karlsson. She holds a Bachelor of Architecture from Pune University, India. Her primary interests lie in art, architecture, technology and their amalgamations through contemporary media. Through her research and practice, she has an extensive knowledge and keen interest in pursuing augmented reality and virtual reality to explore phygital space. Currently she works as a Data Centre Design Architect and Planner in Frankfurt and collaborates on design and technical projects with other like-minded colleagues/teams. |
| | Aayush Bhaskar | Aayush is an Architectural Designer currently working at Studio Fuksas, Rome with research and design interests grounded in aesthetic practices within architecture, media, and art in conjunction with contemporary digital practices. He holds a Master of Arts in Architecture from Staedelschule Architecture Class (SAC) Frankfurt under Prof. Peter Trummer and a Bachelor of Architecture from the Indian Institute of Technology (IIT) Kharagpur. He has a continued interest in Images and by extension architectural representations as a source to speculate on aesthetic and spatial freshness. He has a background in conducting design research with an extensive focus on contemporary digital design practices as well as expertise in architectural design and execution. |
| | Pavel Chernyak | Pavel is an architect with more than 10 years of experience in Spacial Design. He was born in Moscow in 1988 and will graduate Städelschule (Germany) with a Master of Arts (Architecture) in 2021, and graduated London Metropolitan University (UK) with a Bachelor of Arts (Architecture and Urbanism) in 2018. Experienced with all stages of interior architecture, international competitions, event design, and temporary stage design. The present focus is on the development of hybrid reality of virtual and physical spaces, stage design and architecture, AR, and MR applications. The last projects were placed in Russia, South Africa, Italy, and Germany. |
Disclaimer:
All workshops will accept 100 applications MAX.