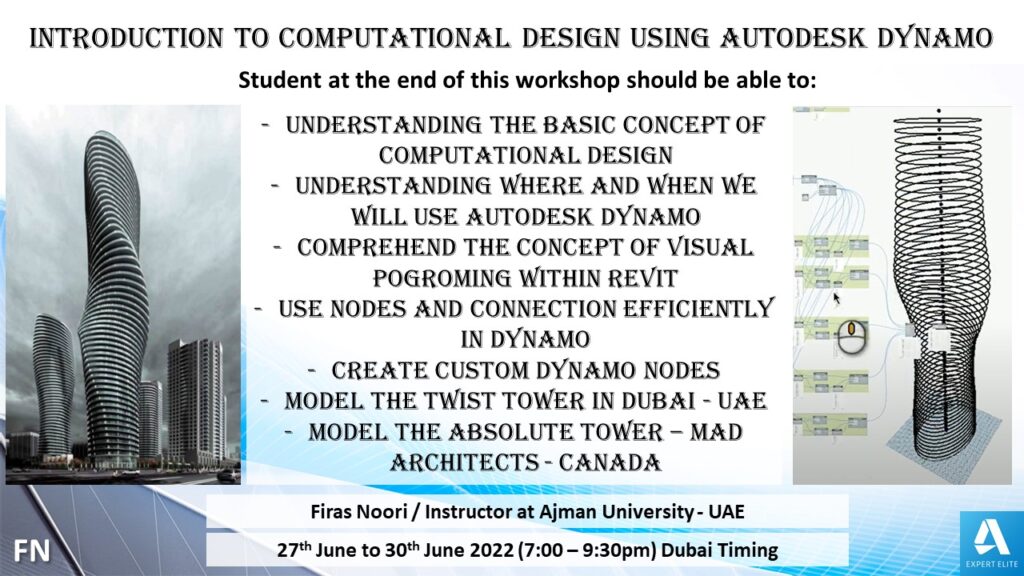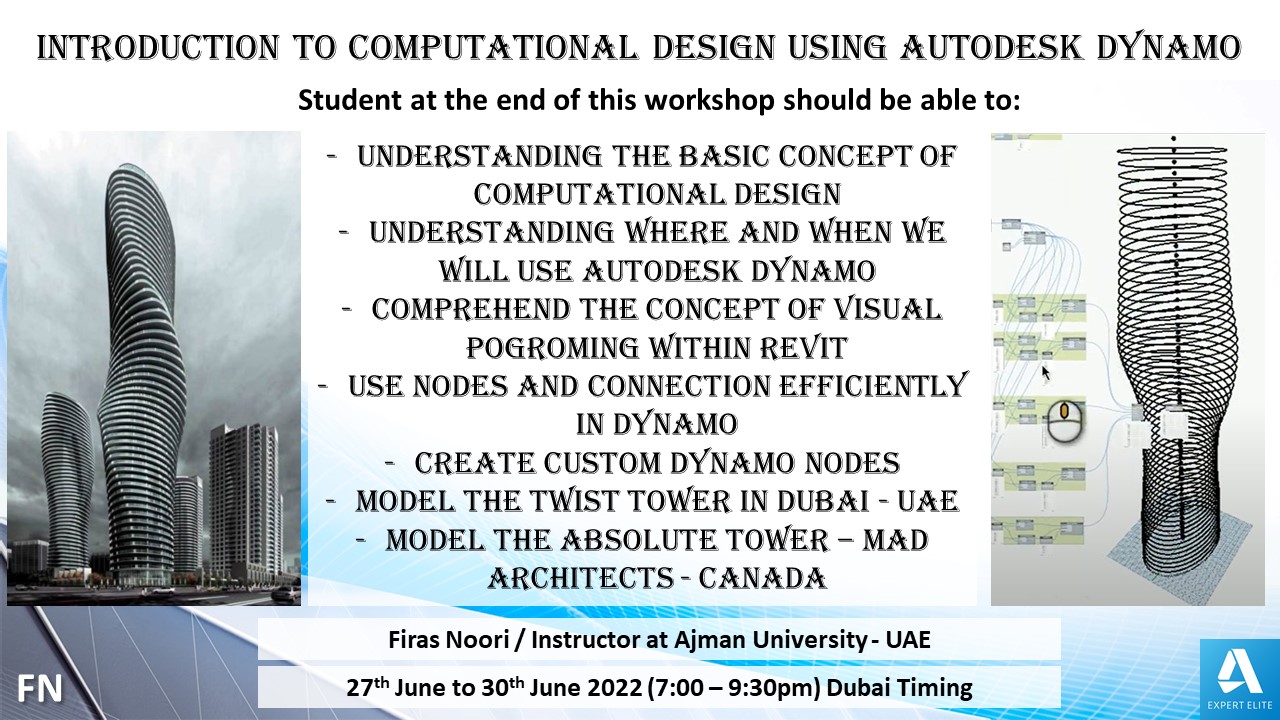 -computational design | - online workshop | -Arabic/English
Description:
Required Skills: Knowledge in Autodesk Revit 2019 or higher version is required

Required Software: Autodesk Revit 2019 or higher version must be installed

Required Hardware: Laptop or PC with Autodesk Revit 2019 or higher version is installed on it
Maximum number of participating students: 100

Workshop Description: the workshop aims to introduce new designers to the concept of parametric and computational design using Autodesk Dynamo. It will introduce the basic terminology of this new design method, with a short and informative theoretical background, in order to explain why and where we need computational design in our daily life, then it will explain practically how the user can apply Computational Design in different design scenarios. Student at the end of this workshop should be able to: -Understanding the basic concept of Computational Design -Understanding Where and When we will use Autodesk Dynamo -Comprehend the concept of Visual Pogroming within Autodesk Revit by being able to use Dynamo -Understand the concept of visual programming by use Nodes and Connection efficiently in Dynamo -Create Custom Dynamo Nodes -Model The Twist Tower in Dubai – UAE -Model The Absolute Tower – MAD Architects – Canada
1 / 1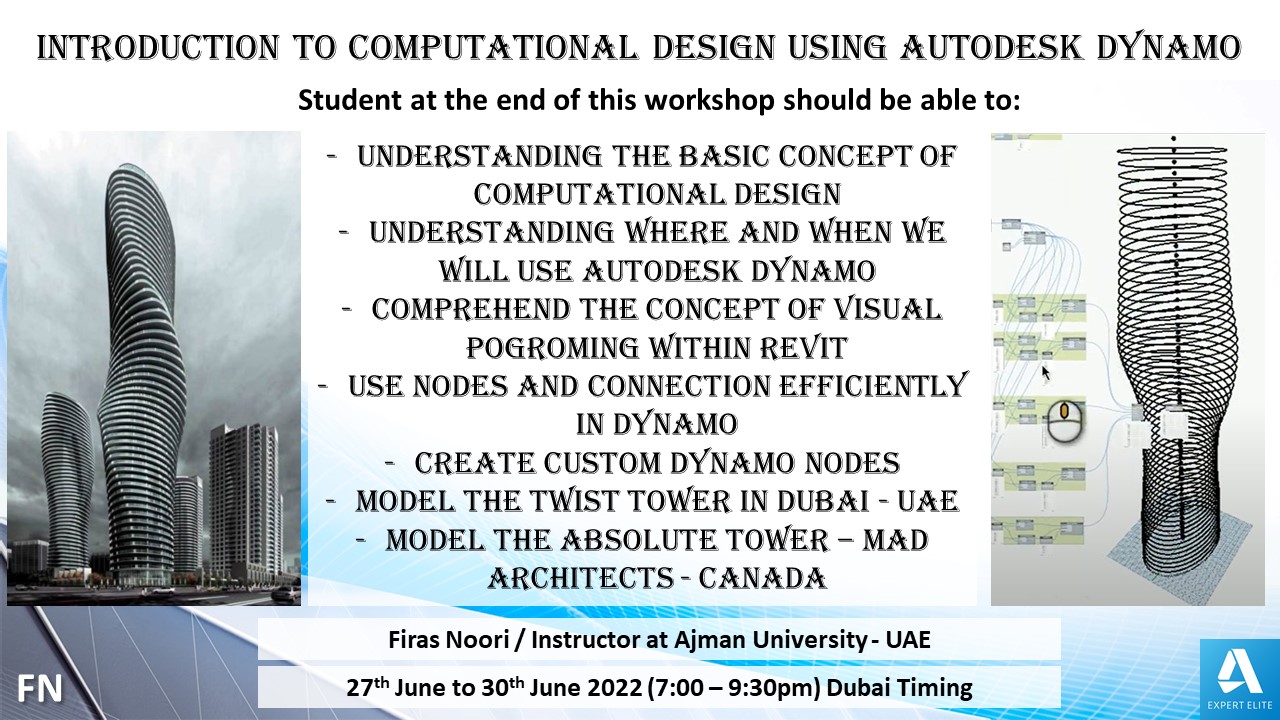 1 / 1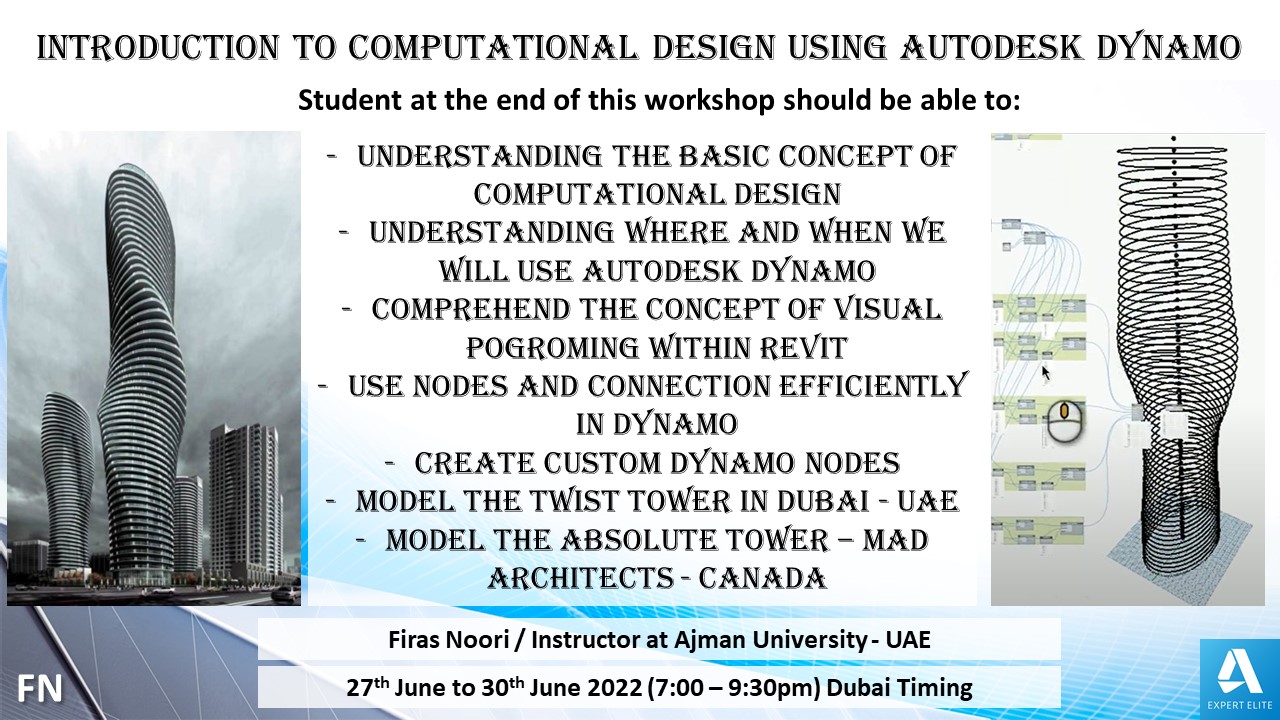 Schedule:
timezone: (GMT +4:00) Abu Dhabi, Muscat, Baku, Tbilisi
| Start time | End time | Description |
| --- | --- | --- |
| 2022-06-27 - 19:00 | 2022-06-30 - 21:30 | 2.5 hr per day |
Instructors:
| | | |
| --- | --- | --- |
| | Firas Noori | Firas Noori is an instructor in the Department of Architecture at Ajman University/College of Architecture, Art and Design (UAE). He is a practicing architect since 1999. Firas has M.Des. in Sustainable Design from the University of Sydney (2013) and another M.Sc. in Architectural Engineering from the University of Technology-Iraq (2004). Firas is a Certified Autodesk Professional in Revit Architecture and An Autodesk Expert Elite Member, his main fields of interest are Parametric Design and Sustainability. He has published a Textbook in Parametric Design in Revit and several papers in the fields of Sustainability and Design. Mr. Noori is an educational influencer with more than (10000) subscribers on YouTube. |
Disclaimer:
All workshops will accept 100 applications MAX.