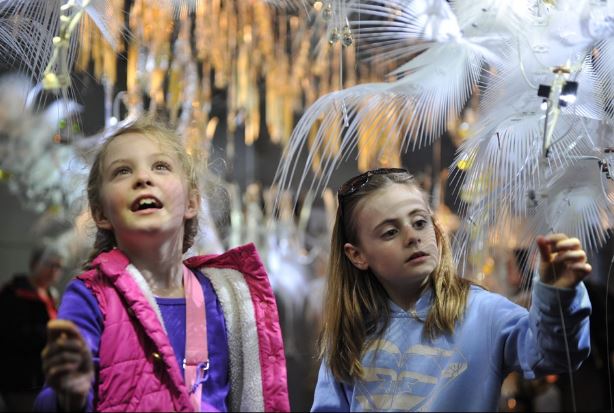 -computational design,-interactive design,-material research | - online workshop | -English
Description:
Required Skills: Design, facility in manual fabrication, hand drawing

Required Software: Digital drawing, advanced image processing

Required Hardware: Access to rudimentary raw materials, recycled/found ok: paper, wire, thin sticks, hot glue, thread, cutting tools etc.
Maximum number of participating students: 100

Keywords: Couture, Living Architecture, Hybrids, Fabrics The New Veils: Couture and Architecture workshop will explore experimental fabric structures, influenced by Philip Beesley's ongoing collaboration with Iris van Herpen and the experimental canopies and architectural-scale fabrics of the Living Architecture Systems Group www.lasg.ca. Students will be offered a series of detailed presentations where Beesley & co's patterns and working methods will be shared in detail, demonstrating how their innovative experimental structures could be further explored and developed.  Multiple open-source patterns will be shared, providing a launch for individual studies of 'tesselation' patterns and interlinking structures. The personal scales of wearable fabrics will provide a particular focus.  During the course of the five-day workshop, individual participants will be asked to develop meticulously detailed drawings accompanied by physical models. Photographs and samples of these explorations would be combined within a final presentation.
Schedule:
timezone: (GMT -6:00) Central Time (US & Canada), Mexico City
| Start time | End time | Description |
| --- | --- | --- |
| 2022-06-27 - 10:00 | 2022-06-27 - 12:30 | Introductions, launch design charrette, Independent work phase 1 assigned |
| 2022-06-28 - 10:00 | 2022-06-28 - 12:30 | Work-in-progress review, Q+A, Independent work phase 2 assigned |
| 2022-06-30 - 10:00 | 2022-06-30 - 12:30 | Work-in-progress review, |
| 2022-07-01 - 10:00 | 2022-07-01 - 12:30 | Final presentations and group crits |
Instructors:
| | | |
| --- | --- | --- |
| | Philip Beesley | Philip Beesley is a multidisciplinary thinker, artist, and designer. He is a Professor at the University of Waterloo School of Architecture, and Professor of Digital Design and Architecture & Urbanism at the European Graduate School. His work is widely cited in art and architecture for its pioneering contribution to the rapidly expanding field of responsive and interactive systems. Beesley's creative work is devoted to opening traditional boundaries between nature and technology. Beesley serves as the Director of the Living Architecture Systems Group (LASG) and Director for Riverside Architectural Press. His Toronto-based practice, Philip Beesley Studio Inc. |
| | Lisa Jiang | Designer/Experimental Design Manager LASG Studio Lisa Jiang is an Experimental Design Manager at the LASG, having previously worked as Creative Projects Assistant at Iris van Herpen Studio. Lisa holds a Bachelor of Arts in Fashion Design Womenswear from Central Saint Martins, University of the Arts London. In addition to a design role in sculptures such as Meander and Threshold, Lisa also leads material experiments and facilitates collaborations with Iris van Herpen Studio. These collaborations include periodic exchanges based on the LASG's specialized knowledge of parametric design software and 3D printing, which have resulted in the creation of flexible meshes that expand, drape and twist around the body. Lisa has been involved in the IvH shows Sensory Seas, Shift Souls, Hypnosis, and Ae |
Disclaimer:
All workshops will accept 100 applications MAX.