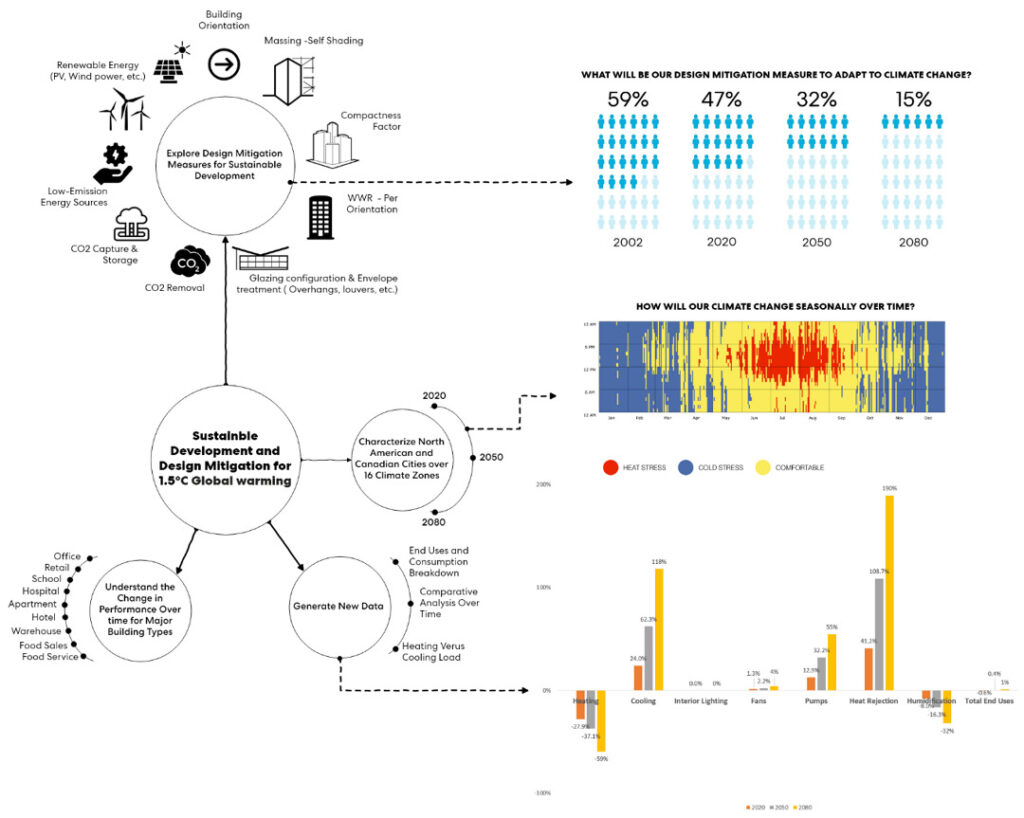 -artificial intelligence,-advanced computation,-computational design,- data visualization,- environmental design | - online workshop | -English
Description:
Required Skills: Basic knowledge of Rhino Grasshopper 

Required Software: Previous install of Rhino, Grasshopper, JMP, Excel, EnergyPlus, Open Studio, Radiance, Honeybee & Ladybug, TT_Toolbox, Lunchbox, Excel, and Weka for ML. 

Required Hardware: Personal Computer software compatible 
Maximum number of participating students: 100

We aim to lead a hands-on discussion that asks how we might consider and anticipate the impact of climate change on buildings and the environment to speculate, imagine, and innovate new models of design intervention that can modulate better performance outcomes.  Although parametric analysis is an emergent data-driven approach to building performance analysis, few practitioners understand effective methods of evaluating parametric analysis data. Furthermore, even fewer understand predictive models and how to estimate uncertainties.  Designers who equip themselves with these techniques can derive insight beyond hysterics and guess concerning innovation.  In these three days' workshops, the participants will learn how to simulate performance models based on weather files that represent different scenarios for climate changes and then generate design alternatives, analyze the performance of large design spaces, augment simulated data using machine learning predictive methods, visualize data for qualitative data exploration, perform sensitivity analysis on simulated data and manage uncertainty using analysis of variance methods for quantitative assessment.   Objectives 
Understand the how to create, access, and use different climate model scenarios

 
Formulate multi-criteria design problems

 
Understand the fundamentals of parametric analysis 
Represent priorities in a value function

 

Visualize data for qualitative analysis

 

Perform statistical sensitivity analysis to quantify the impact of individual input parameters on the overall results.

 
Model the decision-making process in multidimensional problems quantifying uncertainties.

 

Iterate, adapt and innovate new design responses opportunities

 
  Day 1 : June 28
Generative Design 

 

Parametric Analysis 

 
Day 2 : June 29
Sampling the Design Space

 

Data Visualization

 
Day 3 : June 30
Predictions based Machine Learning 

 

Uncertainty Analysis

 

Decision Making

 
Schedule:
timezone: (GMT -5:00) Eastern Time (US & Canada), Bogota, Lima
| Start time | End time | Description |
| --- | --- | --- |
| 2022-06-28 - 10:00 | 2022-06-30 - 16:00 | |
Instructors:
| | | |
| --- | --- | --- |
| | Yehia Madkour | As Director of Innovation at Perkins&Will, Yehia's his role is to influence the firm's projects with leading-edge research. Yehia serves on the Perkins&Will Research and Technology boards, providing strategic direction to research labs and digital advancements in the fi rm. Yehia is the author of 'Parametric Design Beyond Complex Geometries' a book exploring a range of possibilities for computational design to affect design performance across scales. He is a frequent lecturer and public speaker, presenting on the topics of design, computation, mass timber, digital fabrication, VR, mobility, IoT and smart cities. Most recently, Yehia was named to the BD+C 40 Under 40 Class of 2021. |
| | Marcelo Bernal | |
| | Mohamed Imam | Mohamed Imam Holds a Ph.D. in Resource Generative Architecture from the University of Calgary, and M.Sc. in Sustainable Buildings: Performance and Design from Oxford Brookes University, UK. Currently he is a designer and researcher at Perkins&Will. Mohamed is a Certified Passive house designer and LEED AP BD+C. His current research in practice focus is the active integration of performance based computational analysis to support informed decision making with data driven design. |
| | Tyrone Marshall | Tyrone Marshall, AIA, NOMA, LEED AP BD+C, a senior architectural researcher and computational designer and Steering Committee Member for AREA Research, directs project teams with strategic design decisions to address architectural performance design, and planning and development, and new processes at Perkins&Will with almost 20 years of experience. He has a Master of Science with a major in Architecture and concentration in High-Performance buildings from the Georgia Institute of Technology in Atlanta, Georgia, and a Bachelor of Architecture from the College of Arts in San Francisco, California. |
Disclaimer:
All workshops will accept 100 applications MAX.