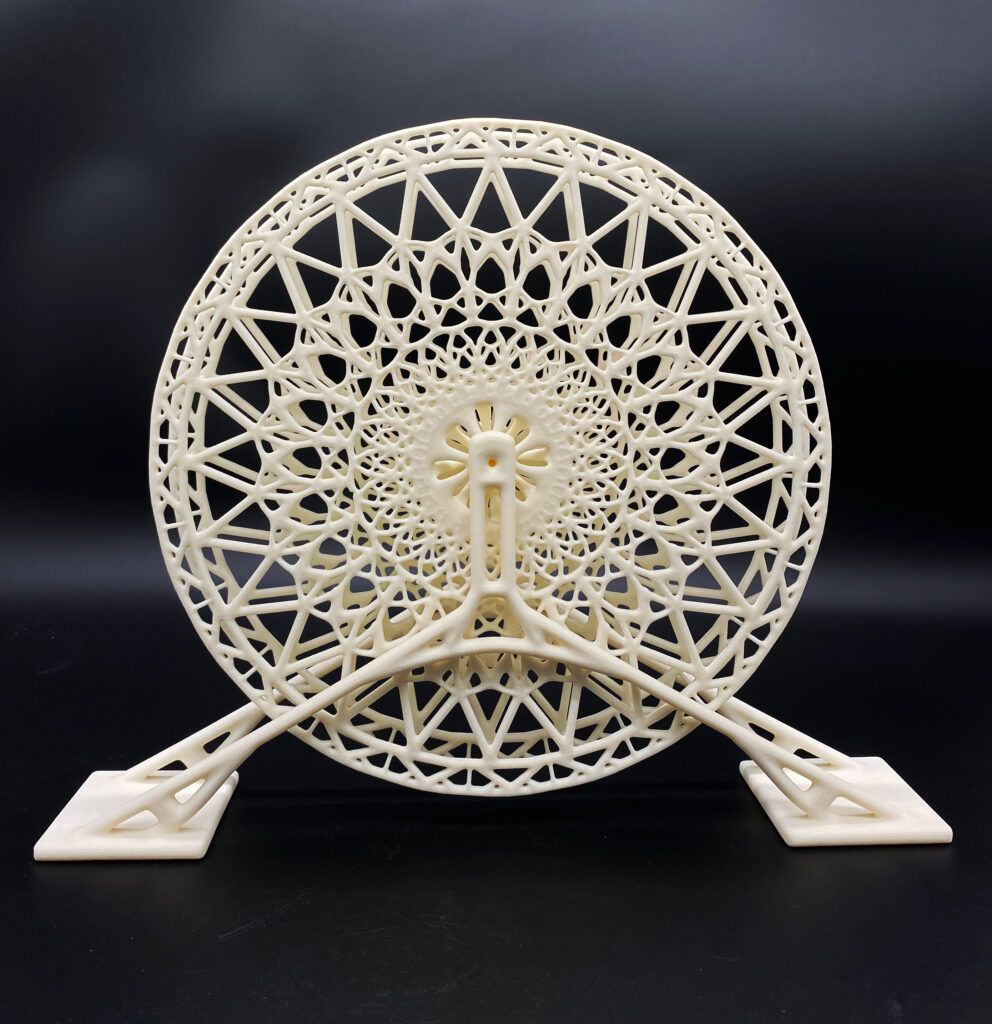 -bio design,-computational design,-fabrication,-structural design | - Hybrid workshop | -Chinese/English
Description:
Required Skills: Intermediate Rhino and Grasshopper skill; Excellent render skill

Required Software: Rhino, Grasshopper, Ameba, ZBrush, Vray, Keyshot

Required Hardware: Powerful computer and good Internet environment
Maximum number of participating students: 100

[Re] Forming Architecture from Natural Morphologies
Since the introduction of computational aided design technology into architectural design at the end of the 20th century, the topic of form-finding based on structural performance has gained new momentum. The development of architectural technology is closely related to the evolution of structural morphology, from barrel arches and domes in the period of Greece and Rome to pendentives and flying buttresses in the period of Byzantium and Gothic; from physical models used by Antonio Gaudi and Frey Otto to the application of topological optimization technology (BESO) to architectural design proposed by Mike Xie, architectural morphology and structural optimization have consistently been reinforcing each other.
The new approach to generative architectural design will be introduced in this workshop. Students will be instructed to develop their architectural design skills by applying topological optimization (BESO) software Ameba and advanced digital modelling software. The concept of topological optimization and the inspiration of Gaudi's Sagrada Familia will be run through building element form-finding, the optimization and architectural ornamental skin design. Students will be required to complete a series of tasks from small to large scale, design and optimize a building or a part of the building individually or in pair, and finally, construct a virtual exhibition space together and 3D print their designs in Ameba office.
At the same time, students and instructors will work with CCSTC Low-carbon & Smart City Technology Co., Ltd on a competition project in Guangzhou using the BESO techniques developed in the workshop and later fabricating the real project during and/or after the workshop.
Expected Outcomes:
Students will learn how to use Ameba (BESO) & digital modelling software for bio-inspired architectural & structural form-finding and structural analysis individually or in pair, thus exploring a new architectural design tool. Later make a virtual exhibition and videos. The workshop includes the following:
Basic methods and strategies for form-finding by BESO method
Research on the lightweight spatial structure design and its method of fabrication.
The experiment on designing and optimization of spatial structures by using the newest topological optimization software Ameba 2.0
Develop and optimize the design through topological optimization BESO method
Digital model complex architectural skins and create optimized hierarchical structures.
Hybrid Workshop:
We will organize the hybrid workshop mode: Online + In Person. Students who are in China can travel to the Nanjing Ameba office to participate face to face studies including learning Ameba and 3D printing physical models.
Youtube Video:
2021 Intelligent Form Workshop
Bilibli Video:
2021 Intelligent Form Workshop
Instructors:
Nic Bao, Xin Yan, Mike Xie, Wei Qiu, Jianan Peng
RMIT University, Ameba Engineering Structure Optimisation Research Institute
CCSTC Low-carbon & Smart City Technology Co., Ltd
Ameba Team:
Wei Shen, Qiang Zhou, Yuan Yao
Teaching Assistants:
Ziyan Li (Lester), Zhuoyuan Feng, Chengbi Duan, Suyi Shen
Schedule:
timezone: (GMT +10:00) Eastern Australia, Guam, Vladivostok
| Start time | End time | Description |
| --- | --- | --- |
| 2022-06-26 - 10:00 | 2022-06-26 - 18:00 | Registration, Introductory Lecture by Professor Mike Xie & Nic Bao, Lecture by Wei Qiu & Jianan Peng. Strategies for Structural Form Finding, Software Tutorial: Rhino, Grasshopper and Ameba |
| 2022-06-27 - 10:00 | 2022-06-27 - 18:00 | Lecture by Xin Yan, Software Tutorial: Ameba, Maya and Zbrush. |
| 2022-06-28 - 10:00 | 2022-06-28 - 18:00 | Ameba Form Finding and Interim Design Review |
| 2022-06-29 - 10:00 | 2022-06-29 - 18:00 | Zbrush Fine Tuning and Interim Design Review |
| 2022-06-30 - 10:00 | 2022-06-30 - 18:00 | Interim Design Review |
| 2022-07-01 - 10:00 | 2022-07-01 - 18:00 | Interim Design Review |
| 2022-07-02 - 10:00 | 2022-07-02 - 18:00 | Informal Final Presentation Review, Video Making and Virtual Exhibition Set-Up |
| 2022-07-03 - 10:00 | 2022-07-03 - 18:00 | Final Presentation Review |
Instructors:
| | | |
| --- | --- | --- |
| | Dingwen 'Nic' Bao | Nic Bao is a Lecturer at the School of Architecture and Urban Design at RMIT University. His research explores design methodologies for establishing a complementary relationship among computational design, structural engineering, behavioural algorithms, robotic fabrication, and additive manufacturing. Nic is also an Australian and US Registered Architect and UK RIBA Chartered Architect. Nic is completing his PhD at RMIT where he gained the Bachelor of Architecture and holds Master of Architecture from the University of Melbourne. Currently, Nic is the Director of BDW Architects and FormX Technology. His work has been exhibited and published widely. Nic received the Grand Prix Design Paris (GPDP) - Gold Award, MUSE Design Award, RMIT Research Impact Prize and Young CAADRIA Award. |
| | Xin Yan | Dr. Xin Yan is currently a post-doctoral researcher in Future Lab at Tsinghua University. He received Bachelor of Mechanics from the University of Science and Technology of China in 2013 and Master & Doctor of Architecture and Engineering from the University of Chinese Academy of Sciences in 2016 and 2022. From 2018 to 2019, he joined the Centre for Innovative Structures and Materials (CISM) as a visiting scholar at RMIT University. He is the co-founder of X-FORM Research Laboratory (XF-RL), a member of the International Association for Shell and Spatial Structure (IASS) and a secretary of Committee of Research Architecture in The Architectural Society of China. His research interests include architectural form-finding methods, design-oriented architectural topology optimization, etc. |
| | Yi Min 'Mike' Xie | Mike Xie is a Distinguished Professor at RMIT University, Australian Laureate Fellow, Fellow of the Australian Academy of Technology and Engineering, and Director of the Centre for Innovative Structures and Materials (CISM). His team pioneered and established the evolutionary structural optimisation (ESO) and bi-directional evolutionary structural optimisation (BESO) methods, which are widely used by designers and researchers around the globe to create many lightweight and high-performance structures and materials. In 2017, Mike won the Clunies Ross Innovation Award and received the AGM MicheIl Medal. In 2019, he was recognised in the Queen's Birthday Honours List and appointed a Member of the Order of Australia (AM). In 2020, he was awarded the Victoria Prize for Science and Innovation. |
| | Wei Qiu | Ph.D., Senior Engineer, MCIOB, Regional Director (Guangzhou) of CCSTC Low-carbon and Smart City Technology Co., Ltd. Wei Qiu received his doctoral degree from the Imperial College London (IC) with research focused on innovative cross-section composite structures and participated in the compilation of Eurocode 4, Design of composite steel and concrete structures. After that, he went to the Research Institute for Sustainable Urban Development (RISUD) of the Hong Kong Polytechnic University (PolyU), carrying out post-doctoral research, focusing on developing and applying GFRP, CFRP and UHPC. Dr. Qiu now leads green building design, novel material implementation and is also responsible for the industrialization of innovative technologies. |
| | Jianan Peng | Regional Design Director (Guangzhou), CCSTC Low-carbon and Smart City Technology Co., Ltd DDes candidate, Florida International University. Jianan Peng leads a research team to carry out projects related to digital fabrication and low-carbon materials including Building Integrated Photovoltaics (BIPV), Topological Optimization, additive manufacturing, robotic timber fabrication, and FRP timber. His research focuses on 3D printing curved PETG molds for spraying UHPC, Wire and Arch Additive Manufacturing (WAAM) steel nodes and elements, digital fabrication timber structures, and air-filled membrane structures. |
Disclaimer:
All workshops will accept 100 applications MAX.