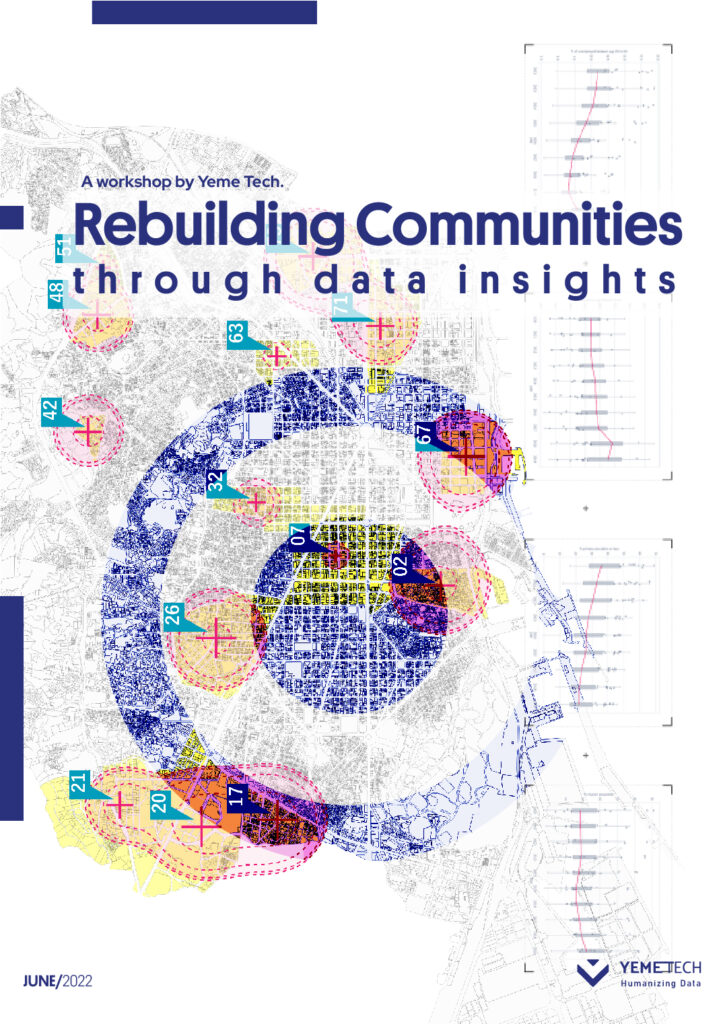 - data visualization,- urban design | - online workshop | -English
Description:
Required Skills: This workshop is designed for candidates passionate about combining urban design and spatial data science. Candidates are required to have a basic understanding of architecture, urbanism, data science, and urban technology. Candidates are expected to be able to use spreadsheets (Google Sheets/Excel) to process, enrich and analyze data.

Required Software: Latest version of QGIS (3.2 and above). QGIS download link: https://qgis.org/ Latest version of Google Chrome/Microsoft Edge. Personal Google/Gmail account.

Required Hardware: Computer with 4GB Ram or more. Stable Internet Connection.
Maximum number of participating students: 20

Many parts of large towns and cities are challenged by growing segregation, disenfranchisement, rising inequalities, and exclusion. This undermines community cohesion and engagement which in turn heightens isolation. On a negative path, the complex web of spatial, social, and economic factors interacts to trap groups and individuals into poverty and marginalization. The decline of local community facilities such as shops, pubs and libraries etc. has been accelerated by the Covid pandemic.
To respond to this increasingly prevalent trend, the workshop is designed to provide tools to digitally map community assets, offering real-time insights into the character of a place. When master planning a large urban design intervention in an area, it is possible to curate a 'Human Centered Design' by leveraging these community insights. However, in many existing communities it is not possible to create and implement a new master plan proposition. For this, the workshop aims to design protocols for key interventions to uplift the communities.
Candidates will work in groups to explore various aspects of a given area. These will be taken further to develop strategies, analytics and planning proposals for urban regeneration and new urban metabolisms. Candidates will be introduced to principles of strategic planning, urban design as well as new tools for cartography and urban analytics.
Schedule:
timezone: (GMT) Western Europe Time, London, Lisbon, Casablanca
| Start time | End time | Description |
| --- | --- | --- |
| 2022-06-27 - 10:00 | 2022-06-27 - 12:00 | Introduction to coursework and outline. Understanding geospatial data. |
| 2022-07-01 - 10:00 | 2022-07-01 - 14:00 | Deriving conclusions and summarizing key takeaways. |
| 2022-06-30 - 10:00 | 2022-06-30 - 14:00 | Using statistical methods to refine the analysis. |
| 2022-06-29 - 10:00 | 2022-06-29 - 15:00 | Exploring QGIS to create digital maps. |
| 2022-06-28 - 10:00 | 2022-06-28 - 14:59 | Working with tools to explore and gather urban insights. |
Instructors:
| | | |
| --- | --- | --- |
| | Alejandro Quinto Fernandez | Architect and MSc in City and Technology. Digital Creation Lead at YemeTech, a data-driven platform that aims to improve urban development through community wellness and social interaction. Passionate about urban innovation and the relationship between the built environment, health and digital transformation. |
| | Kushal Saraiya | Kushal is an Architect and Data Scientist. Head of Data Science at YemeTech, he is focused on creating a digital platform to implement inclusive community growth. He is experienced in devising data software tools to enable improved commercial propositions to be developed. |
| | Nihar Mehta | Nihar is an Architect and MSc in Advanced Architecture. He is an Urban Technologist at YemeTech focused on developing statistical relationships, of data with socio-economic and built environment, to enable urban development for community wellbeing. |
| | Rovianne Santiago | Rovianne is an Architect and an Urban Technologist at YemeTech. Her interests lie in observing patterns of behavior and the thoughtful application of technology and programming that lead to a positive impact. She is also keen on developing the urban landscape into a better version of itself, while retaining its essence and varying cultures. |
Disclaimer:
All workshops will accept 100 applications MAX.