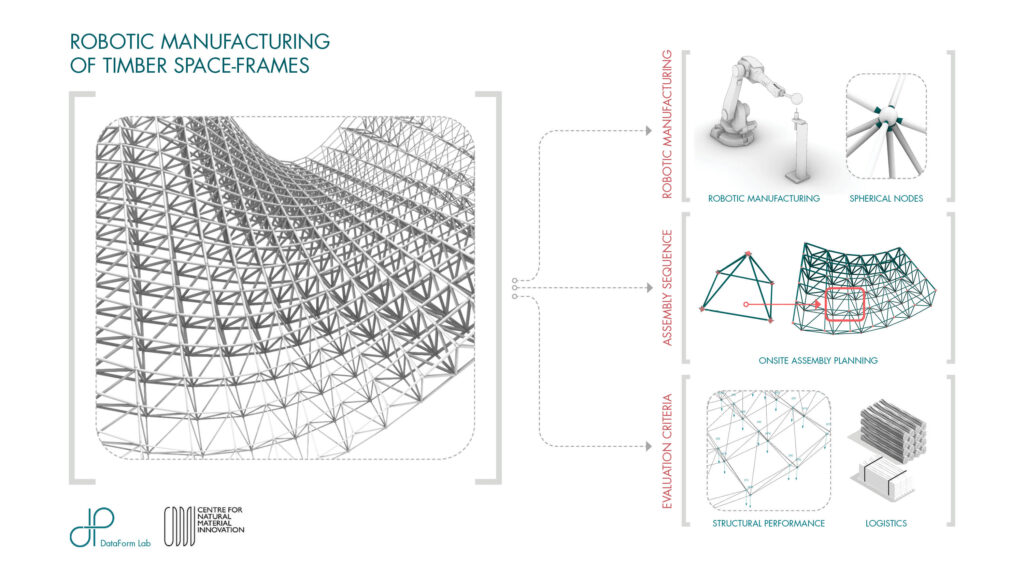 -advanced computation,-computational design,-robotic fabrication,-structural design | - online workshop | -English
Description:
Required Skills: Intermediate Grasshopper

Required Software: Rhino, Grasshopper

Required Hardware: Laptop/PC
Maximum number of participating students: 15

With the construction sector contributing to around 38% of global carbon emissions, natural materials, like timber, and advancements in their digitalisation and manufacturing processes have been at the forefront of decarbonising the embodied emissions of the built environment. The focus of this workshop is placed on timber space-frame structures, due to their modularity, high structural performance and lightweight configuration, that enable them to generate diverse, low-carbon designs, when compared to conventional structural systems. The workshop will be taught by Eva Magnisali (DataForm Lab) and Antiopi Koronaki (Centre of Natural Material Innovation, University of Cambridge) and it will focus on the automation of the design and construction of timber space-frames. Bringing together digital design tools, robotic fabrication and embodied carbon calculations, participants will develop a novel integrated computational workflow for the optimisation of timber space-frames.  Participants will be introduced to the principles of structural analysis, as well as design optimisation methods to incorporate manufacturing performance criteria and reduce embodied emissions of their structures. Automating the construction process will be achieved through the consideration of robotic fabrication constraints and onsite assembly and logistics requirements.  The workshop will be structured in 3 days of intensive teaching on computational design and robotic fabrication, including tutorials, as well as design development sessions. Participants will have the opportunity to see the proposed workflow applied on a real-scale case study, and apply it on individual design projects. Evening lectures by lead industry experts will enrich the teaching experience, demonstrating the application of automation in timber construction in practice.
1 / 1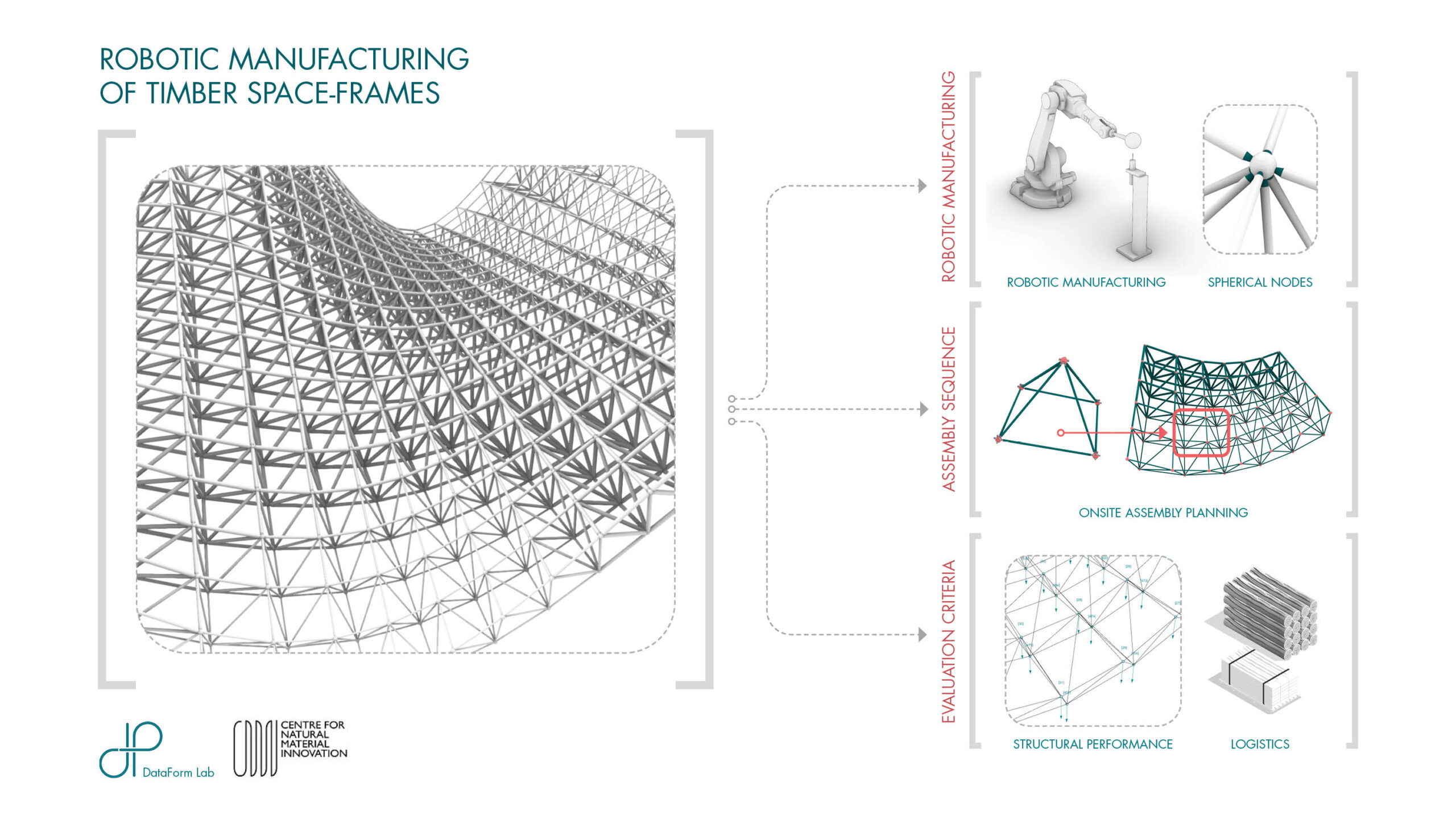 1 / 1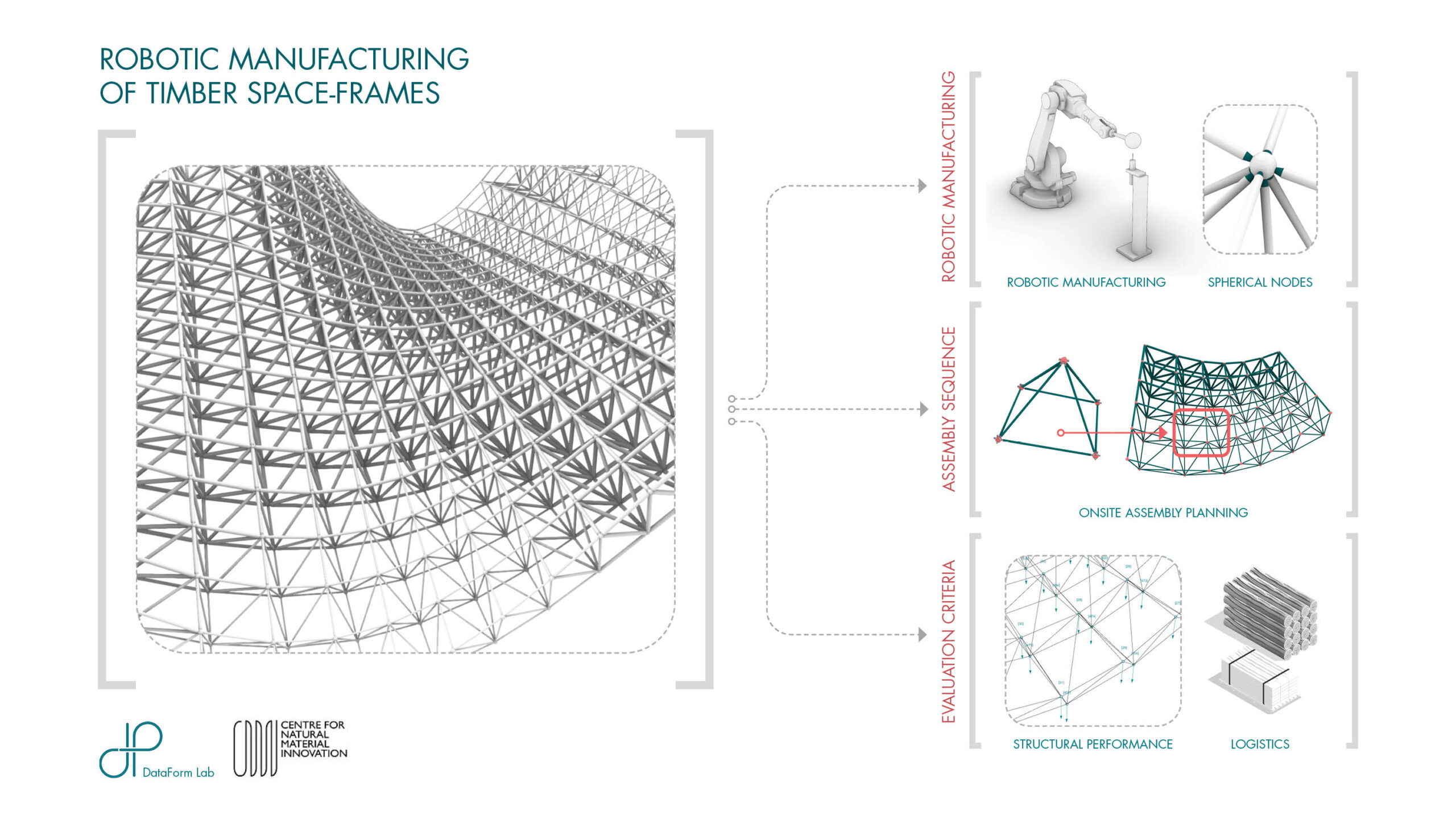 Schedule:
timezone: (GMT) Western Europe Time, London, Lisbon, Casablanca
| Start time | End time | Description |
| --- | --- | --- |
| 2022-06-27 - 10:00 | 2022-06-29 - 17:00 | |
Instructors:
| | | |
| --- | --- | --- |
| | Eva Magnisali | Eva Magnisali is the founder of DataForm Lab, a start-up aiming to disrupt and transform the AEC industry by accelerating the integration of automation in off-site construction. The company is making an impact through digital innovation, by de-mystifying industrial robotics and by developing design-to-fabrication digital workflows that enable all stakeholders to engage with advanced fabrication technologies. In parallel, through automation consultancy at a business level, DataForm Lab is de-risking technology innovation and investment in automation in Construction. |
| | Antiopi Koronaki | Antiopi is an Assistant Professor in Design Computation and Fabrication in the Department of Architecture at the University of Cambridge. Her research explores the potential of engineered timber for off-site manufactured schools in the UK. She holds a PhD from the University of Bath on the optimisation of large-scale, complex structures for construction. Since 2014 she has been heavily involved in teaching at higher education institutions including the Architectural Association, CEPT and Cambridge University. She has also led several international workshops focusing on digital fabrication and design computation. She has industry experience working on the bridge team at Wilkinson Eyre and her work has been exhibited widely, including the London Design Festival and London Design Biennale. |
Disclaimer:
All workshops will accept 100 applications MAX.