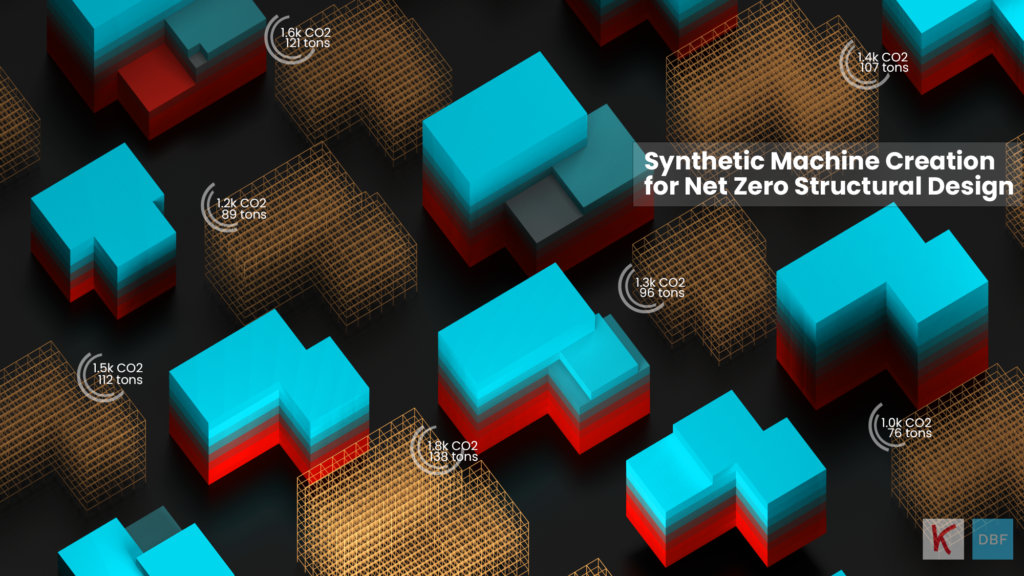 -artificial intelligence,-advanced computation,-computational design,- environmental design,-interactive design,-structural design | - online workshop | -English
Description:
Required Skills: There are no prerequisites for this workshop, however basic programming languages such as JavaScript and Python, as well as a working knowledge of Karamba 3D, will be advantageous.

Required Software: Web-based platform for ease of usage

Required Hardware: Laptop or PC, Windows 10 or Later, and a Stable Internet Connection
Maximum number of participating students: 100

Why NetZero Structural Design?
One way to help reduce global carbon emissions is to address the lifecycle carbon footprint of buildings in the early design stages.
However, building certification systems do not address the impact implications of embodied carbon emissions from the energy used to construct a building and during production.
Consequently, we must rethink the way we design structures driven by embodied carbon from the early design stage. The goal of our project is to use machine learning and synthetic data generation to bridge the gap between massing and structural design. This workshop will showcase experiments into structural design generation and carbon emission calculations using Machine Learning for architecture, with the intent of exploring methods to minimize the carbon footprint of our buildings.
How we can reimagine the way we design buildings through the lens of embodied carbon?
To answer this question, DBF (Singapore) and Karamba3D (Vienna) are joining forces to host a joint workshop for DigitalFutures 2022. During the 3 day collaboration, we will explore the use of Machine Learning (ML) and synthetic data generation to bridge the gap between massing and structural design.
Workshop participants will explore the following topics:
Synthesizing massing data and its structural behavior
Cleaning, storing, and training the dataset,
Develop a machine learning model,
Visualization of structural systems prediction integrated with embodied carbon analysis utilizing a user-friendly platform.
This workshop culminates in several experiments exploring structural design generation and carbon emission calculations using Machine Learning for architecture.
Schedule:
timezone: (GMT +8:00) Beijing, Perth, Singapore, Hong Kong
| Start time | End time | Description |
| --- | --- | --- |
| 2022-06-27 - 15:00 | 2022-06-27 - 18:00 | Synthetic Data Generation + Clustering by DBF |
| 2022-06-28 - 15:00 | 2022-06-28 - 18:00 | Simulation + Output by Karamba |
| 2022-06-29 - 15:00 | 2022-06-29 - 18:00 | Training and Simulation |
Instructors:
| | | |
| --- | --- | --- |
| | Sayjel Patel | Researcher, teacher, and coder - He was a Founding Professor at the Dubai Institute of Design and Innovation and a graduate of the MIT School of Architecture and Planning. Previously he was a researcher with the SUTD DManD Center, MIT Digital Structures, MIT Senseable City Lab, and RMIT Spatial Information and Architecture Lab. He received his architectural training with COOP Himmelblau (Vienna), KPF (New York), and Gensler. In 2017, he founded Digital Blue Foam, the world's friendliest building design software for design-build companies. |
| | Clemens Preisinger | Clemens Preisinger, D.I. Dr. is a structural engineer and researcher. He started his career as a researcher at the Institute for Structural Concrete at the Technical University Vienna. Since 2008 Clemens is working for the structural engineering company Bollinger–Grohmann. During that time, he contributed to several research projects at the University of Applied Arts Vienna. There he currently heads the department 'Digital Simulation' which investigates possibilities to bring computational modelling techniques into early-stage architectural design. Since 2010 Clemens is developing the parametric, interactive Finite Element program 'Karamba3D' as a freelancer. He holds a PhD in Structural Engineering from the Technical University Vienna. |
| | Matthew Tam | Matthew Tam is an architectural designer based in Vienna, having studied at the University of Applied Arts Vienna, SCI Arc and University of Melbourne. He is core to the "Karamba3D" - a parametric engineering tool - team, regularly holding workshops at conferences and institutions. Matthew works within the Advanced Geometry department at Bollinger+Grohmann working at the interface of architectural, structural and computational design. He has taught the TU Innsbruck, TU Graz & Swinburne University of Technology. |
| | Rutvik Deshpande | Rutvik is a Machine Learning Design Engineer at Digital Blue Foam and is also pursuing a bachelor's degree focusing on Architecture in India. He aims to use AI in Architecture, with his work focusing on data-driven design workflows in both urban and architectural scales. He also has interests in the use of data science, machine learning, and computational design in the built environment. Rutvik has co-led technical workshops at prestigious global conferences like CAADRIA and DigitalFutures. |
Disclaimer:
All workshops will accept 100 applications MAX.