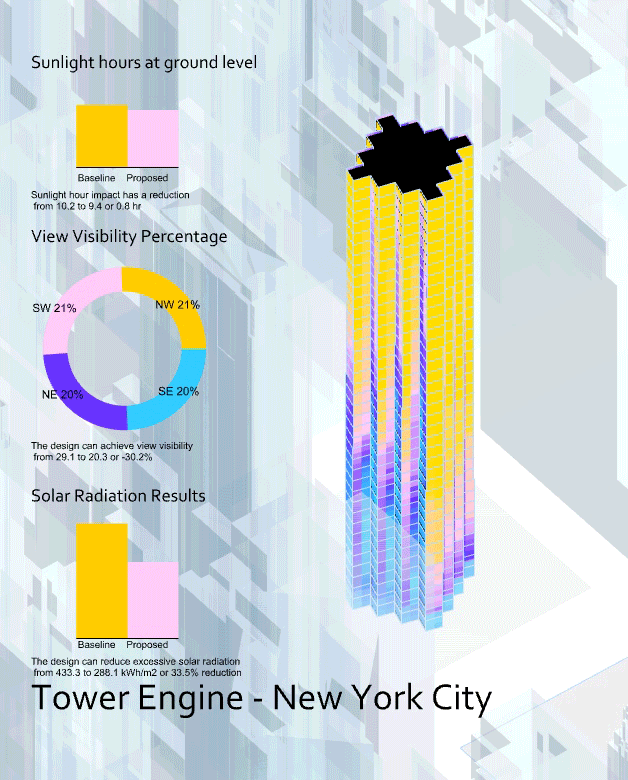 -computational design,- data visualization,- environmental design,- urban design | - online workshop | -English
Description:
Required Skills: Grasshopper: Intermediate / Rhino: Beginner

Required Software: Software: Rhino 7. Grasshopper Plug-In's: Elefront, Ladybug tools, Wallacei & Conduit
Maximum number of participating students: 25

This workshop focuses on performance-based tower design. This workshop aims to take participants to apply environmental performance assessment from building to urban-scale issues through a studio-like format. Participants are encouraged to design a high-rise tower within the specific site plot in a relation to surroundings and environmental interactions.  This workshop will provide a process of constructing simulation algorithm in four disciplines including 3d modeling, environmental simulation using ladybug tools, generative design for optimization and post-processing visualization which the whole process are defined as "Tower Engine".    Tower Engine is a workflow for intelligent and resilient high-rise building design. In the studio format, we will form teams that will work on a real-world tower design case study. The teams will develop their concepts using Tower Engine and external optimization and exploration tools to achieve the design objectives. Participants will learn method of constructing algorithm, tricks, data illustration and result evaluation. Participants will be assigned to generate 500 tower variants, each evaluated and assessed by the views, solar radiation, daylight, impact on shading and other related to each design approach. Finally, the generated designs will be analyzed and displayed in comparison in order to find the most optimal option(s). At the end of the workshop, participants are encouraged to present their projects and share their feedbacks.   Site: Bryant park, New York City |  Site area: 6340 sqm.  |  Building GFA maximum: ~60,000 sqm  |  Program areas: Commercial: ~18,000 sqm., Office: ~20,200 sqm., Residence ~10,000 sqm., Hotels ~10,000 sqm. *In addition, the project is required to provide at least 20% of building envelope for photovoltaic panels or solar cells and other 30% for green walls and open spaces.  
Schedule:
timezone: (GMT +3:00) Baghdad, Riyadh, Moscow, St. Petersburg
| Start time | End time | Description |
| --- | --- | --- |
| 2022-06-27 - 15:30 | 2022-06-27 - 18:30 | Session 1 Intro to the Brief and Tutorial in Generative Tower Modeling |
| 2022-06-28 - 15:30 | 2022-06-28 - 18:30 | Session 2 Intro to Environmental Design Strategies and Analysis |
| 2022-06-29 - 15:30 | 2022-06-29 - 18:30 | Session 3 Intro to Genetic Algorithm and Optimization |
| 2022-06-30 - 15:30 | 2022-05-30 - 18:30 | Session 4 Creating UI for Selecting and Categorized the Results |
| 2022-07-01 - 15:30 | 2022-07-01 - 18:30 | Session 5 Additional Tutorials if needed, Discussion, and Following up the Progress |
| 2022-07-02 - 15:30 | 2022-07-02 - 18:30 | Session 6 Final Presentation and Closing |
Instructors:
| | | |
| --- | --- | --- |
| | Amal Almahmoud | Amal Al-mahmoud is a Saudi architect with specialty in building technology, and computation. She is currently a (Master of Science) in Architectural computation candidate at The Bartlett school of Architecture in University College London. Her work has received multiple recognitions, exhibited and published internationally most notably at DigitalFutures, ACADIA, and The Architecture master prize. |
| | Nawapan Suntorachai | Young architectural designer who is passionate in environmental and computational design. He works in sustainable design field for benchmarking, optimizing and master-planning for site-specific locations where all specific elements applied in algorithm to achieve holistic process and meet reciprocity that people, economic and nature can coexist and evolve through change of climate. |
| | Gilang Fajar Kusumawardana | Architectural and Computational Designer based in Indonesia. M.Arch Graduate, Architectural Design at Bartlett School of Architecture, UCL. Currently, work in Design Computation at Digital Blue Foam Singapore |
Disclaimer:
All workshops will accept 100 applications MAX.